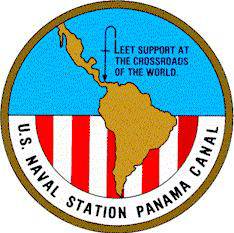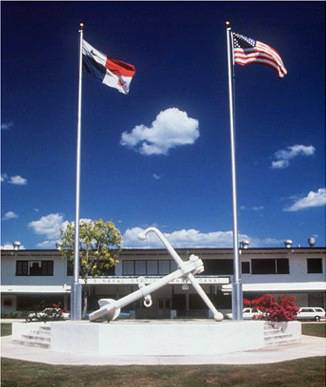 US Naval Station Rodman - Building #1
Rodman Naval Station
Built in 1943, the 600-acre U.S. Naval Station Panama Canal (Rodman Naval Station) provided fuel, provisions and other support to military ships passing through the Panama Canal. Until its March 11, 1999 handover to Panama, over 200 military and civilian personnel staffed Rodman. The naval station included a port facility with three docks, 87 housing units, warehouses, industrial areas, an office building, and other facilities.1
Rodman hosted the Southern Detachment of the Atlantic Fleet (CINCLANTFLT Detachment South), the naval component of the U.S. Southern Command (SouthCom). CINCLANTFLT takes the lead in SouthCom naval exercises, such as UNITAS. With the closure of Rodman, naval activities in the hemisphere are now coordinated from Atlantic Fleet headquarters at Norfolk, Virginia.
Rodman also hosted the Navy Small Craft Instruction and Technical Training School (NAVSCIATTS), which offer Spanish-language training to naval and coast guard personnel from throughout the region. The NAVSCIATTS has moved north, and now offers courses at two U.S. locations: Camp LeJeune Marine Corps Base, North Carolina, and the Naval Special Warfare Command at Stennis Space Center in Gulfport, Mississippi.2
The Mobil oil company reportedly invested $25 million to convert Rodman and the nearby Arrijan tank farm into a fuel-bunkering terminal. Part of the naval station may also become a third lane of locks for the Panama Canal.